Hi Ya'll, got your coffee?...Good, cause I wanna share our latest garage sale makeover. I found this pair of vintage lamps at a garage sale for only $10, and of course I had to have them....(to go with the other 12 in the garage :) The huge plastic lamp shades were sooo big I could not fit them in the car, (okay...so the car was full of other treasures).
Lamps! Lamps! Lamps!
Ya Gotta Love 'Em!
Well, you don't have to love em', but can you see the potential?.....
So are you ready to jump into the process?....First I grabbed my #1 tool...my smart phone (Love my Sprint Evo)...Taking pictures before I start ripping things apart helps me to get things back together in the right order. I used to think I would remember, but after a few "leftovers" after assembly....I learned to take a pic!
First hurdle...I couldn't get the things apart! After several tries I considered cutting the wires, (little voice is screaming NO at this point), but I didn't think that was the best decision, so I thought about it...then cut the wires anyway. Okay, patience is not my strongest quality, but I did get the brass beasts apart...
| | |
| --- | --- |
| Should I or Shouldn't I? | Just Do It!! |
| | |
| --- | --- |
| Brass beasts disassembled! | |
Next, I primed with Rustoleum metal primer (2 coats), and picked out a satin nickel paint....but the trigger was broken, so I went with Krylon sterling silver spray paint instead...in retrospect, probably not the best idea!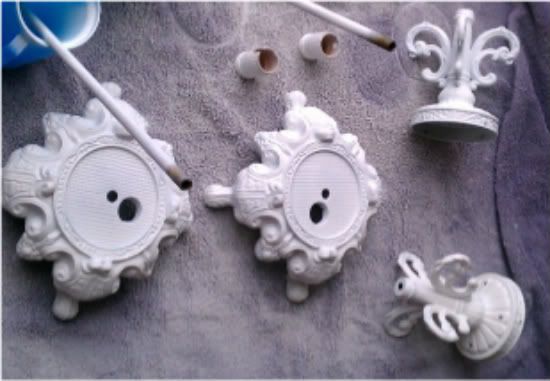 Primed and Ready!
Shiny?

Not So Sure About the Sterling....
Whataya think?
| | |
| --- | --- |
| | This pic does not do justice to the SHINE....these babies were bright! I love bright, but they kinda looked plastic...so my creative brain went into high gear...What should I do?....how 'bout a little stain to give em' an antique look?....I don't like to think about it too much, I'd rather just try it, so that's what I did.... |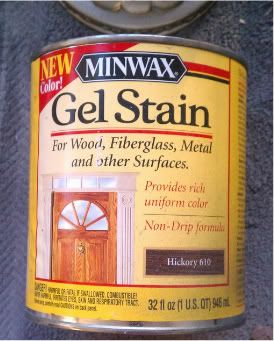 Hickory?....why not!
Well, I just scrolled through my pics, and I guess I forgot the "antiqued" pic....It was AWWWFUL! The whole thing just looked dull brown, so back to the primer. I only tried the stain on one piece so I only had to reprime and repaint one piece. While waiting for the different coats of paint to dry I started on my idea for the glass....BLUE! I love blue and I have been wanting to try out glass paint so I picked up a few supplies and got started...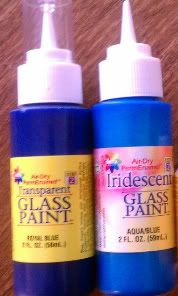 I couldn't decide which blue....so I got both!
****Advice Moment**** Read the directions on the bottle prior to leaving the store!
I bought the glass paint, went home and then noticed that according to the directions, I needed to prepare the surface with another product first...Oops! So, back to the store where I picked up the prep solution...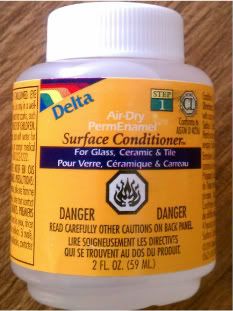 Conditioner...just smells like alcohol!
****WARNING**** As much as I like Amelia to help me, there is a warning on glass paint about birth defects and reproductive harm....YIKES! I'm not having anymore babies, but I just want to warn all you future mommies to use with caution...
Here is the magic!
I purchased 2 blues and 2 different kinds of glass paint (cause I can't have things too simple). I chose Delta glass paint in Navy blue transparent, and Aqua blue iridescent. The navy seemed to dark and the aqua was too bright...plus, iridescent sounded more fun than transparent! I mixed the 2 blues 1/2 and 1/2 and then got started painting...I decided to paint the inside of the glass rather than the outside (no chance of chipping off with kid use...you know kids love to touch the "pretty glass"). The paint is dishwasher safe so I think the heat from the inside light will be okay...Here is the result
I''m likin' it!

I LOVE Blue!!!
How 'bout you?
Now back to the bright silver...I decided to put a lamp together and see if I liked the look... First I had to become proficient at wiring (since I cut the wires earlier)...thank goodness my husband is so handy, so it wasn't too hard (especially since I used my evo to make sure I knew where each wire went)....
| | |
| --- | --- |
| Wiring too? | Splice and Dice |
And here is the result...whataya think?...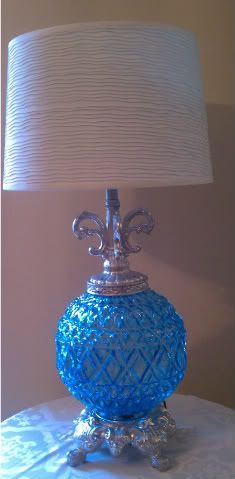 Too Shiny or Not?
I asked friends and family and the vote was unanimous...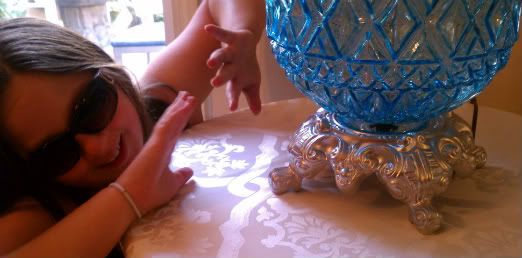 "I gotta wear shades, Mom!!!"
...The silver needed to be toned down a notch. Back to the paint isle where I picked up some Rustoleum satin nickel...wasn't that my first choice (when will I learn?)... Here are the two side by side...
| | |
| --- | --- |
| Sometimes Dull is Better! | How many times do I have to paint these? |
Done and Done!...Color is right and it is time to paint it all and endure the process of waiting for paint to dry...uuugggghhhhh!
Of course, I can't just wait...I painted a few of the teardrop crystals blue too....gotta have a little bling, right?...READY?!?....
Here is the before and after reveal....be sure and let me know what you think...I love em'!!!
| | |
| --- | --- |
| | Love my new lamps! |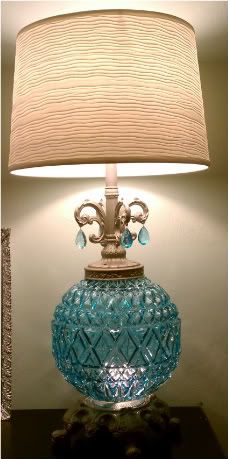 Blue is best!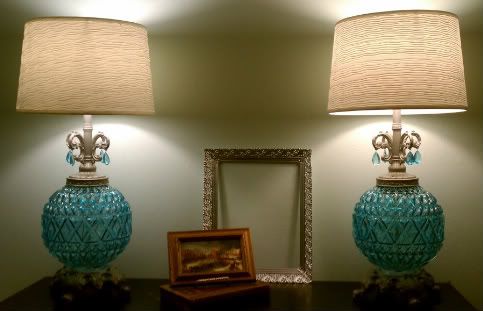 Okay, so I didn't really like the "bulb" look at the bottom, so I fixed it with some diffusers...you can see the post

HERE

...the result is next...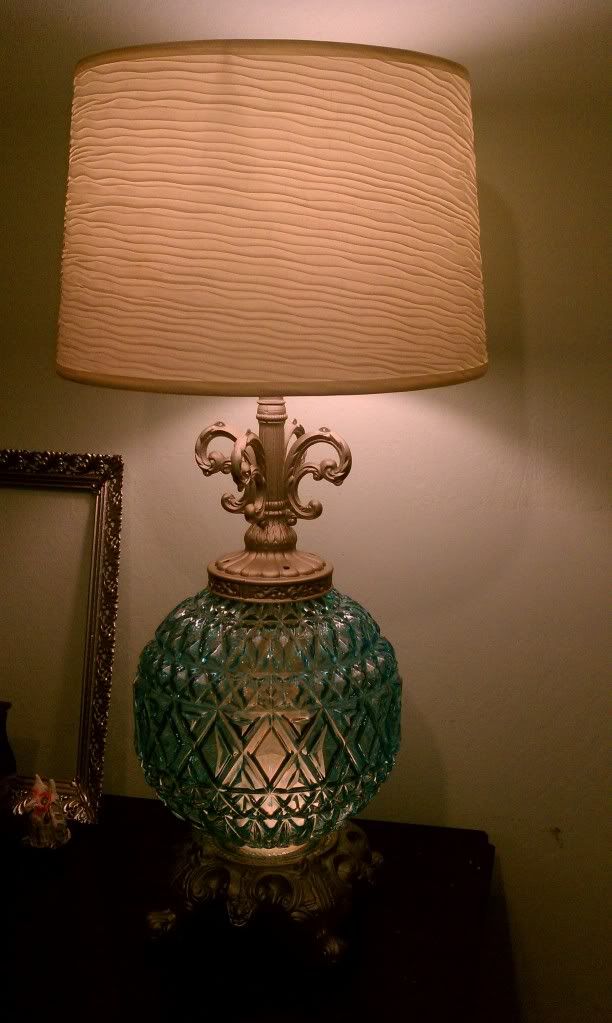 No teardrops....with diffuser
I love comments (doesn't everyone), so please "talk to me"...Ya'll are the greatest,
Linking up here...