Hi Ya'll,
Welcome to Bleak 2 Unique. My special thanks to Tenille Gates at TCBOTB for her hard work...She is truly fabulous!
While waiting for the makeover it crossed my mind to take a few days off...HA-HA!! However, I did manage to finish a project, (a project NOT involving recovering parts of my blog). Here is my new chalk-paint table for the screened in porch, and my very first "before and after"..... (mouse over photo)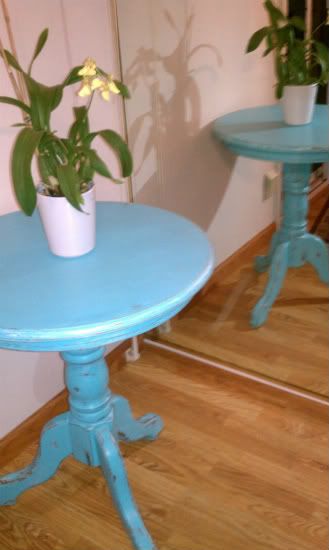 Well, that is the "before and after", but now you get the rest of the story.....WARNING!!!!....
I took a lot of pics, so if you want to get the whole experience, (almost in real time), keep reading for a detailed start to finish makeover, and a messy chalk paint recipe. Try not to laugh at my recipe...I just try stuff...and it worked (In my younger days I mixed bleach and ammonia to clean the bathtub...NOT a good idea, I should have read the warning label).
First I gathered all my supplies:
| | |
| --- | --- |
| Lightweight Spackling | Urethane |
| | |
| --- | --- |
| Whizz rollers | PURDY brush |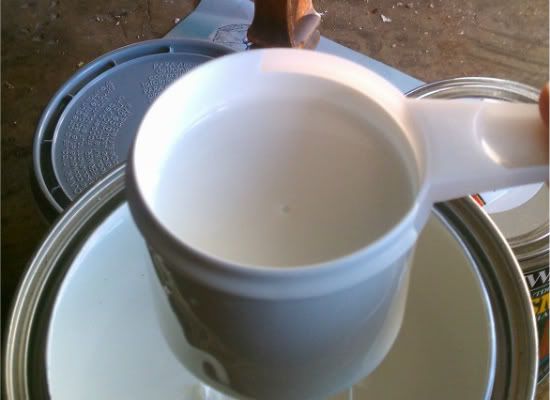 Flat Paint
I found several chalk paint recipes online, but not many for furniture, so what's a girl to do?...Make something up!....My initial chalk recipe was:
1 cup flat paint

2 1/2 Tbs lightweight spackling

1 1/4 Tbs satin urethane
Mix well...it is thick and doesn't look like very much paint, but it goes a long way. Be careful not to step in the utensils you used.....like me!?!
Makin' messes!
This paint did not go on smoothly and the whizz rollers were not affective (too sticky). I had terrible brush marks, and I was getting worried...
Prominent brush strokes
Although I was not happy with the existing finish, I decided to try sanding....and sanding...and sanding. The table got sanded, but so did my thumb...OUCH

!
Ouch!
Not liking this too much

I didn't really like the look of this paint finish...maybe too much destressing, but I decided I wanted it blue anyway. So, do I go to the store and buy some flat blue paint?....NO! I have some perfectly good satin blue that would do just fine if I mixed it with a little of the flat white...(this is when the little voice was yelling...NO, but I didn't listen).....The new chalk paint recipe went something like this:0
1 cup white flat paint

1 cup, more or less, blue satin paint

5 Tbs lightweight spackling

2 1/2 Tbs satin urethane
I had a lot more paint this time! (You really don't need this much unless you are doing a very large piece). This batch went on about the same, but that is where the similarities end. The blue was a definite improvment....don't you think?
Blue is Better
Then I started sanding....the new chalk paint recipe did not sand into chalk like the original batch. The paint was "gummy" in some places and "rolled" up when I tried to sand, so I had to sand gently.
"Gummy" spots....YUK!
The only left to do after getting a smooth finish.....Distress!
More distressing
Sanded edges
Last thing to do was to wax.....then enjoy!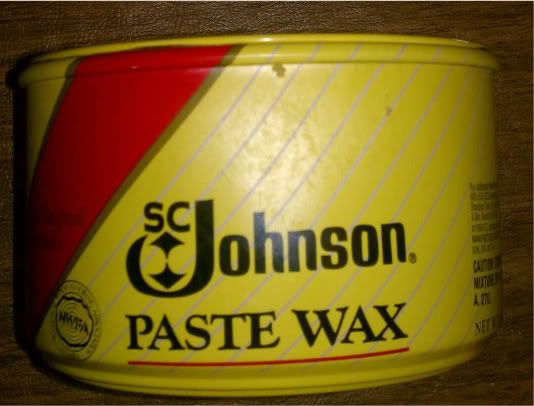 Wax it!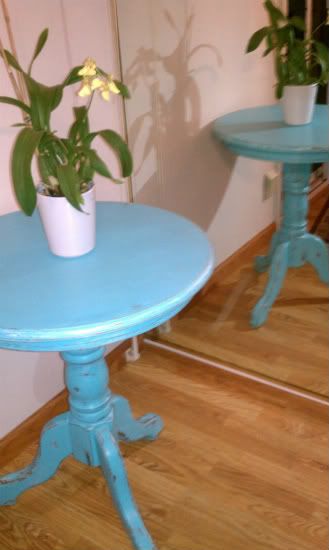 Enjoy!
Although I really love the end result, I don't know how well this "original" chalk paint will hold up....It was tough to sand, so I am hoping it will stand the test of time. Also, I have to warn you that the clean up is horrific! The urethane only cleans up with mineral spirits and the latex cleans up with water....Did you know that oil and water don't mix? I won't bore you with the details, but it was an oily mess. The end product was worth it for me, but I wouldn't recommend that paint recipe. Thank you for joining me on my first "start to finish" blog....any questions? I love comments!!!