Hi Ya'll and good morning.....At 7:00 pm it is morning for me (if you didn't know, I work nights...YUK). I was sooo tired driving home this morning that I was trying to come up with a way to stay awake...ie: alive! I enlisted the help of my EVO...I turned on the camera, and every time I stopped, I took a picture. Pretty boring, I know, but when you are sleep deprived, the weirdest things just seem right. I was at my third traffic light when the idea to take pics hit me....why? I was sitting at the light and right in front of me was a Maserati. Who doesn't want to take a pic of a high dollar sports car, and wonder what they are doing, and thinking, as they drive that hunk of cash around....So, I did it, and my journey home began..... (Forgive the pics, but I was in a car with a dirty windshield, and ....did I mention I was in a car?) ...ATTENTION: To all SFPD...I only had the phone in my hand while the car was stopped....NO crime here! And here is my trip home.....
Maserati approaching Van Ness
Okay, I have to add that this car can probably go 180 mph and here it sits....just like me in my mom's Lincoln....What good is a super fast car on a city street? Oh well, not my money! At least they can probably afford the gas prices.....
Thanks a lot Mr. President!
At this point it is about 7:45 am and I am hungry, so I started looking for sustenance....please DO NOT tell Kristi @
Addicted 2 Decorating
cause' she is doing so great on her new healthy lifestyle...she may even start a new blog about her and her husbands success (we can only hope). Anyway, back to the trip.....
Next stop, Burger King...
No health food here....
The food is not on my "healthy" list, but the service was great, and I got breakfast with a smile...
We had a language barrier,
but she was smiling!
Between my southern accent and her accent (not sure what accent it was), we were laughing by the time my order was complete...nice to get a smiling face at a drive-thru!
At the corner I saw a window full of geedunks (pronounced with hard G...gEEdunks)...if ya don't know, this means a "what not". Not sure what establishment this is, but I wanted to shop...
Now I have to decide whether to eat, or take pics....the pics won out...
People on the street
Morning Sunshine!
I would love to have stopped at this next place for coffee...do you have drive-thru coffee places where you live? Love the concept of coffee on the go...
Drive-thru coffee shop
On to the freeway where I don't plan any pics....until traffic stalls momentarily...
Poor quality pic of the city
Thirty minutes later I'm almost home and it is a beautiful morning...
What kinda tree is this?....like it
What a sky....thanks God!
Beautiful day!
Turning into our neighborhood...looking forward to some sleep!
No soap in the fountain today...
yes, it happens often
And now I am home, where I get hugs and kisses and sleep...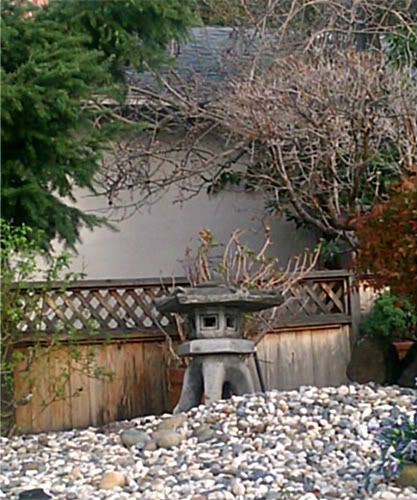 Mom's front yard...no grass!
Glad that I was inspired by that Maserati cause' I didn't get sleepy at all, and I spent some time taking in the glory of the day!
Now it's your turn...What inspired you today?....tell me all about it...