Hi y'all! I just had to share my tiny bit of inspiration with you. Last night I found some inspiration at my feet...more about that in a moment...first a little background. As a lot of y'all know, we live 3000 miles away from our new house. We moved here to California to take care of my mom, but after three years it is time to head home to Sweet Home Alabama! Our new home has been finished for several months, and now sits empty just waiting for us. Unbelievably, I have never seen it in person. All I have seen is pics on the web...wanna see it....

Click Here!
What did ya think? We are pretty excited, but the details of moving can be overwhelming. Did you know that insurance companies rate a move as one of the top 5 stresses in life? I can attest to this....I was feeling frazzled! Job changes, school changes, insurance changes...and the list goes on! Not to mention the melding of 2 separate households...you can read about that

HERE

....This helps explain why just about all my post pics are staged outside in the garden...my stuff just doesn't fit...plus I love the garden. When I get stressed and overwhelmed I stare out the back door and just think...People move everyday, right? This is "No hill for a climber", right? It was during one of these pity parties self pep talks that I looked down at my feet and found a little inspiration...a kind of ,

"If I can do it, so can you"

, moment. My inspiration?...a lone snail!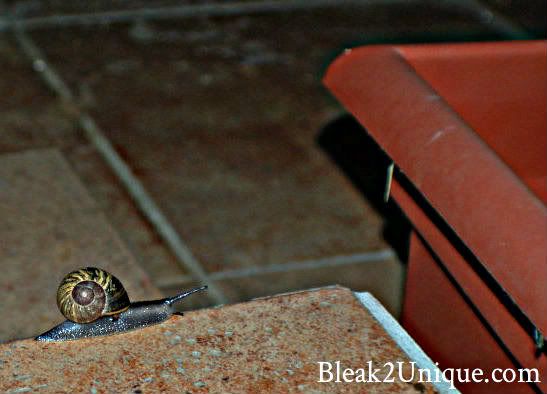 One of God's unique creatures was venturing out...and inspiring me...making me dig deep and ponder. This little guy could have made the choice to stay in his shell all nice and safe, but instead he exposed himself, opened up, and when he did, he could move forward. Oh, how many times do we stay closed up in our safe little shells, unwilling to venture out....stuck in the same spot?

"If I can do it, so can you".

This is where I had to run grab my camera, cause' could tell this was going to be good. Seriously, that push in the right direction was enough to make me smile, but I think God wanted me to do more than smile...this was a life lesson! I found myself entranced by this little guy... so vulnerable...yet he keeps moving. What about me?...I'm exposed, I open up...what then? The truth....coming out of my shell only gives me the ability to move forward...I still have to move!

"If I can do it, so can you".

Once I start moving, things will fall into place perfectly, right? A clear, smooth path will be laid out before me...Not quite....you have to grow, S-T-R-E-T-C-H, and keep moving...just like this little guy!

"If I can do it, so can you".
Obstacles are inevitable so what do you do? Stress? Go back into your shell? Have a pity party? We can learn from this wise little snail...Assess the situation, pray, determine your course, and keep moving in the right direction...
"If I can do it, so can you".
Assessing the situation
It's not comfortable to stretch yourself...it can be scary!
Imagine stretching your body across an abyss eight times your height...for me that is 42 feet. If that isn't scary enough, add in the fact that the width you have to cross is the length of your body. In reality, it's not likely that this scenario will be the obstacle that you or I will face, but we will face our own abyss.
"If I can do it, so can you".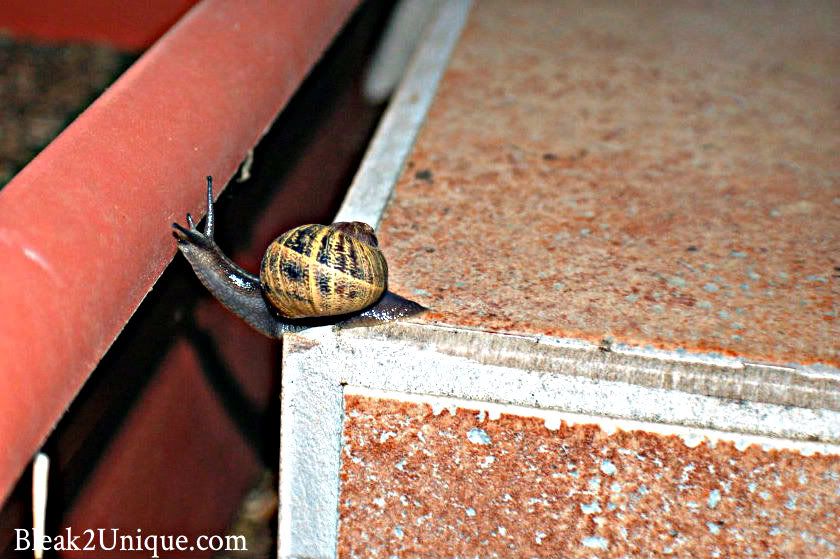 What will I do when faced with my obstacles?...What will you do when faced with your obstacles?

Venture out, S-T-R-E-T-C-H, Determine your course and....Press on!

"If I can do it, so can you".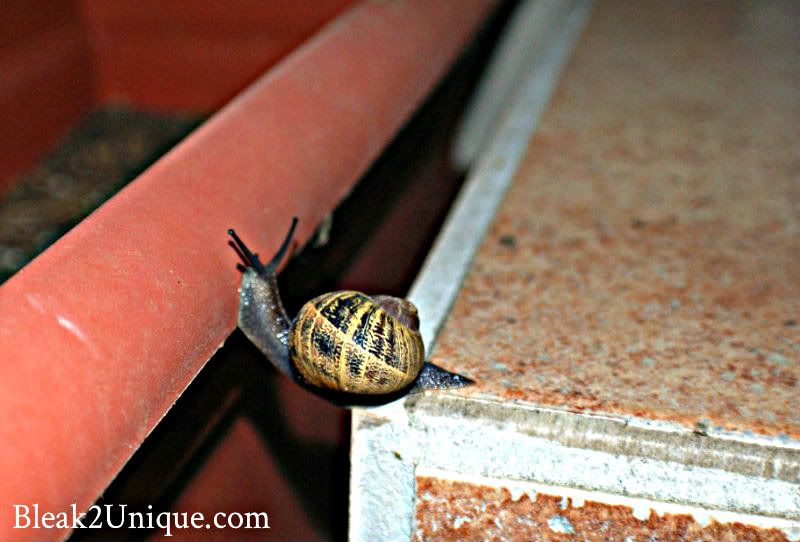 At this point I was getting a little worried that this little guy was not going to make it, but I overcame the urge to "help"...I had faith in his perseverance, his fearlessness! Yes!, in a life lesson, snails can take on human characteristics...it's a new rule!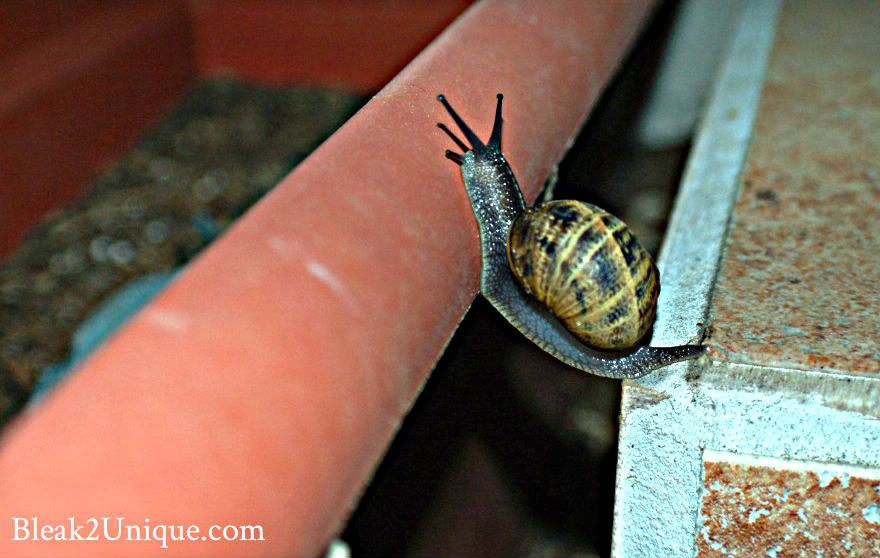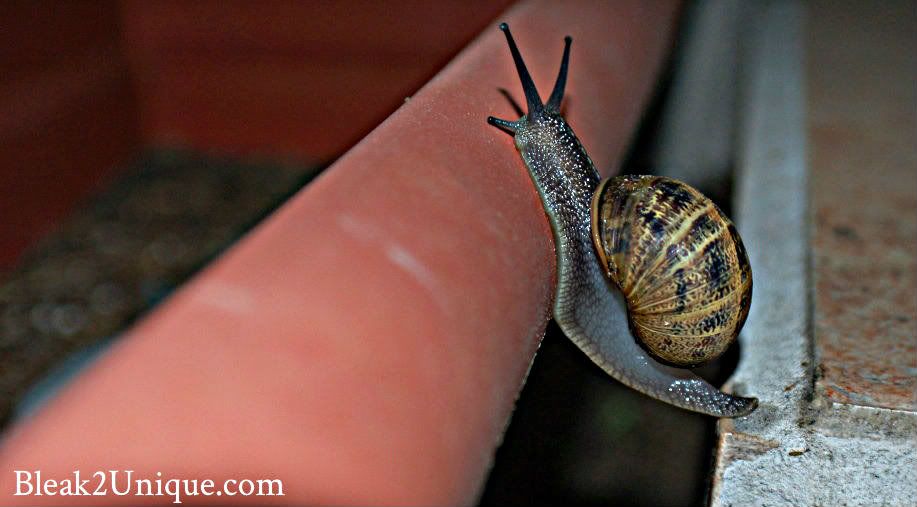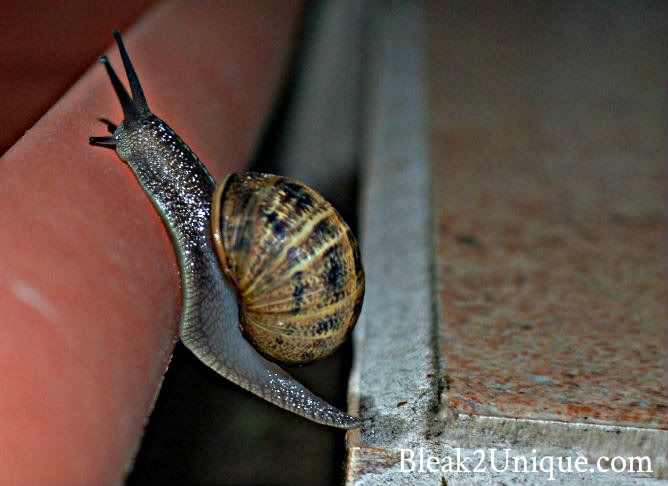 He made it, and so can I...so can you! My worries are so insignificant, and my obstacles can be overcome...I am truly blessed. I find myself wondering what I was fretting about in the first place. We have a new home, we are going home, jobs are available and change can be wonderful....and I was able to see this, all thanks to one little snail.
Let's recap the snails journey:
1. You have to come out of your shell to move forward!
2. Even with the ability to move you still have to choose to move!
3. There will be obstacles as you move forward!
4. When faced with an obstacle, assess it, pray, determine your course, and move!
5. Whatever comes your way....Press on!
6. Miracles happen everyday!
Think of the snail and remember...
"If I can do it, so can you".
Linking up here...