I was a guest over at "My 1929 Charmer" yesterday. Cathy is having a huge 1st Anniversary party, and your all invited. Go check out all the great ideas, and fabulous prizes.
Thanks Cathy, and
Happy Blog-iversary!! Here is what I shared...and don't forget to sign up for a chance to win the $25 Michael's gift card..
Let's keep the party going with some faux mercury glass, and a Michael's giveaway!
My garage is full of treasures that I've picked up thrifting and on Craigslist, but my latest find was already in the garage. This baby was just gathering dust on a shelf when I spotted it...
The "wavy" glass was so pretty I almost changed my mind about painting it, but paint can be removed, right? So I forged ahead...
Supplies...Jar, Paint and Water
I found some Krylon "Looking Glass" paint at Michael's, and with my 40% off coupon the price was about the same as any other spray paint....love a bargain! To get a "Mercury glass" look I sprayed the inside with a mist of water before painting. I tried to do several light coats but I ended up with more on my hands than in the jar. I finally went with spraying quite a bit, swishing it around, and turning it over to drip...
After several coats the finish was complete, but I wanted more of a distressed look...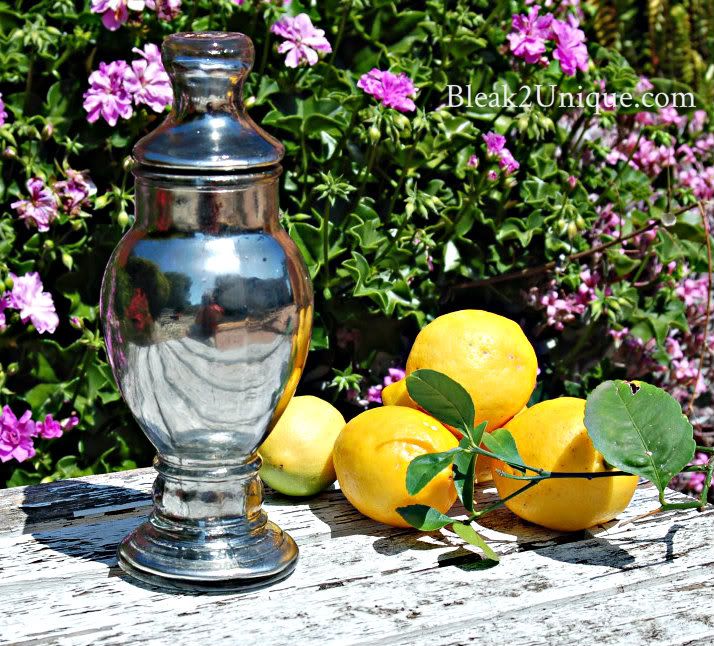 A little to shiny
To add a little distressing I mixed a teaspoon of vinegar in my water, lightly sprayed the inside, and then patted off the excess. I like the hint of aging, and I may even add some more...
So do you think my "mercury glass" could use a little more distressing, or do you like it as is? I would love to read all your wonderful comments. Thanks for inviting me to your party Cathy!
Linking up with these fabulous parties...