Do you remember the bowl and fruit I dug up in the backyard? Well, the bowl is still unchanged cause' I am still thinking about it, but I finished the fruit. Actually, I finished the fruit several days ago, but I really did not know what to do with them. None of my projects fit with the current decor, so everything goes to the garage or in a box. To understand my decor dilemma
Click Here
Needless to say I have a hard time creating a vignette to share my creations. I didn't even share the floor to ceiling, wall to wall mirror in the back of the dining room....no way to take a pic without being in it, so I wasn't goin' there!
Mom loves mirrors!
Anyway, back to the fruit....I considered painting, silver leafing, decoupaging with sheet music, or just leaving them alone...I decided on decoupage.
My song birds, seen
Here
were a favorite, but how much music covered stuff does one person need, right? I finally decided on some pretty paper that I found at Michael's. I selected 2 or 3 patterns for each piece of fruit and got busy....like this....
| | |
| --- | --- |
| Colors for Lemon or Banana | Pear paper |
| | |
| --- | --- |
| Maybe for the Peach | This screams Apple |
So here is what I started with....dirty fruit...
Rustic Apple

Pear in need of "Re-pear"
Fruit humor :-o.
I kinda liked the rustic look of these, but apparently not enough...so out came the homemade decoupage paste....
Decoupage Recipe....1/2 and 1/2 glue and water, MIX....That's it!!!
| | |
| --- | --- |
| Amelia's glue | Water |
After mixing up my special decoupage paste, I grabbed my scissors to cut random shapes and sizes out of my decorative paper.
I find that applying the decoupage mix to both sides of the paper is best....I use my fingers....go ahead, it's part of the fun, but if you do this you better have someone else to take pics. I was on my own so I don't have any pics of the process, but here is the final product....
| | |
| --- | --- |
| Bunches of Fruit | Just Peachy |
Do I need to tell you...
Banana

An Apple a Day
After I finished I had a problem....I really like the fruit, but what was I going to do with it? That's a lot of fruit!! This is the reason for the delayed post....I just couldn't decide what to do with all this "Cute Fruit". I finally decided on just one or two pieces at a time in a vignette. I'll warn you in advance that I am totally new to vignettes....especially when it is just for pics. Hopefully I will get better with time, but for now....
The pear is my fav

Playing with photobucket features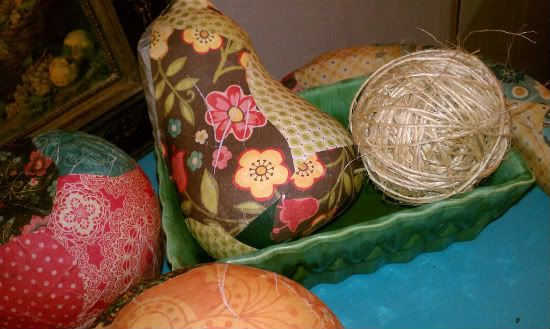 Twine or no twine?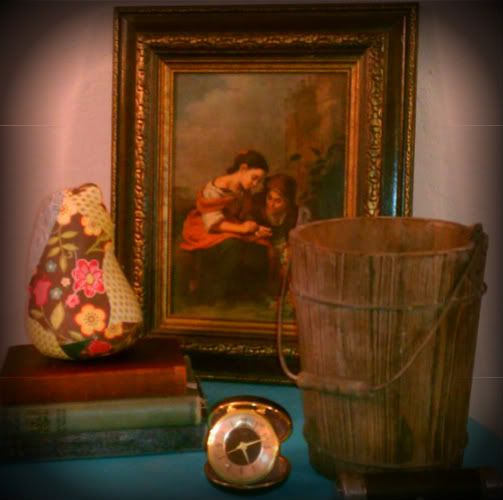 More special effects
I'm lovin' my new fruit...now if I can figure out where to put em'.
What do you think?
Would you have decoupaged or painted?
Where would you use these,or would you use them at all?
So tell me what you think....I love reading all your comments.....
I'm linking up here....