I think I figured out what the big bowl is....a decorative fruit bowl. Where did I get this idea? Well, the dirt, junk treasure pile offered up some more stuff...
Take a look...
The junk and dirt pile out back
Just so you don't think we are too slobby (is that a word?...is now!), there is a flower garden and a fence that you see....this pile is behind the fence. I guess that is why someone piled all this stuff back there....I pile my junk in the garage like normal people!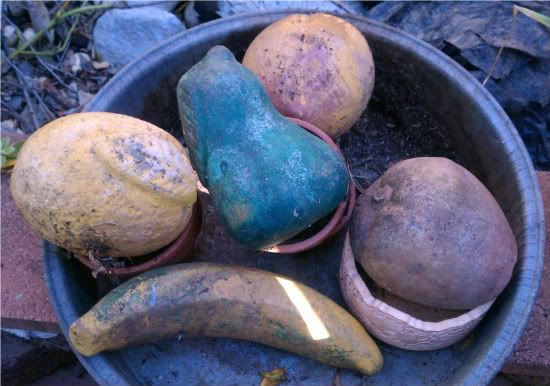 BIG Fruit
There is a banana, apple, lemon, pear, and a peach....these are huge...about 2-3 times normal size. So it is up to ya'll again...do I use the fruit with the bowl, paint it like fruit, paint it solid, or hide it out of sight? Sorry to be taxing your creative brains so much, but I love all your ideas. I look forward to hearing from you....
Come on tell it like it is!