I have been looking around Pinterest today cause' I was too tired to do much of anything else. Just in case you missed it (not likely), I work nights, and I hate it! I know hate is a strong word, but in this case it applies! Night is for sleeping, dreaming, snuggling and the like,.... NOT working! Don't get me wrong, I am grateful that I have a job, but I still hate working nights...just do!
Okay, so back to my trip around Pinterest. I would tell you what I was looking for, but if you "pinterest" then you know there is no way you can stay on a particular task. I started out looking at entryways, then I saw a cabinet I love which led me to a site, where I found something else I love, which led me to subway art, which led me to Valentine's day, which led me to....you see what I mean? Pinterest had to be created by an ADD decorator with OCD...NO, not me!!! So I ended up thinking about love, and it reminded me of a beautiful thing that happened this morning...I got home from work, took off my shoes, and hung up my keys, and I saw it....On the message board, where I hang my keys, my daughter had written one of her poems. I say "one" of her poems cause' she is a writer at heart and she is always leaving little songs, or poems scattered on pieces of random paper. Today was a treat though because instead of just stumbling upon her work, I found it where she purposely wrote it... on the message board for all to see...she shared freely ( a good sign)! Here is the sweet treat I found...an Amelia original...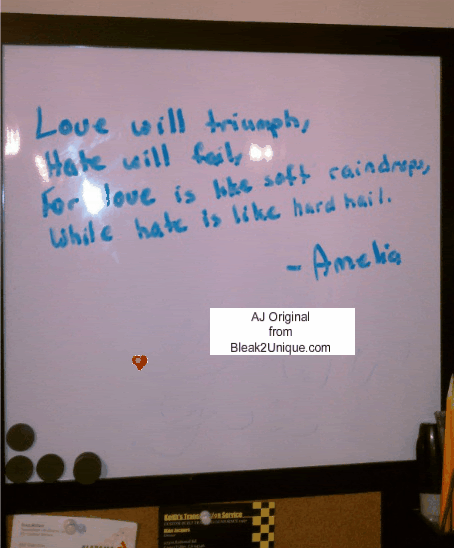 Gotta love it!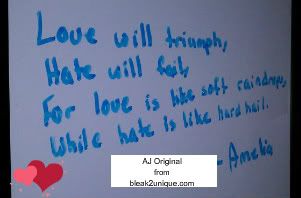 My 11 year old poet
My pics aren't that great cause my android is all I have at the moment....it reads...
Love will triumph
Hate will fail
For love is like soft raindrops
While hate is like hard hail
So glad I could share with all of you....Have a day filled with love!