Thursday morning we got a call from Priscilla, my sister-in-law, and she needed a little assistance in moving from Las Vegas to California.
Well who doesn't love a road trip?
We arranged care for my mom, threw a few things into an overnight bag, picked up Amelia from school, and got on the road....
all of us yelling, "Road Trip"!! We don't get to go off that often so we were super excited. Cliff loves to drive (I don't), and we managed to get to Las Vegas around midnight...or so the clock read, but it was as bright as noonday. Wow, I can not imagine the power that place uses. Anyway, we aren't gamblers so we drove straight to the house and hit the sack...hard.
We loaded up the van with Priscilla's belongings early Friday morning, and we were off again...yes, it had to be a quick trip due to limited care for my mom...but we made the best of it. We had lots of laughs and even more snack breaks, but our most fun was our diner stop. Right off of I-15 in California there is a wonderful little diner named "Peggy Sues". We had already eaten...as in constantly, but we made room for dessert at this great little diner...Here is just a glimpse...
Betty Boop greets you at the door...
Lunch counter....so fun!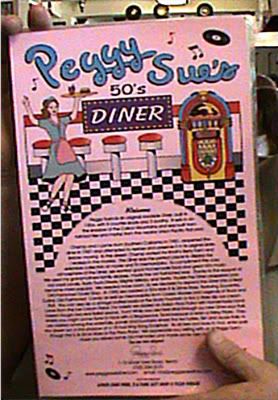 Lots of good food to choose from...
We were really too full to eat a thing, but who can pass up homemade pie...Not me!
I picked Coconut cream..YUMMY!
The rest of the diner was full of memorabilia and 50's fab stuff. There were 3 separate dining areas with Elvis and Marilyn Monroe gracing each one...I could have stayed for hours, but my hubby (the driver), was ready to go after pie and the hour I did spend...he is soooo patient. Gotta love him :)
The waitresses even have the authentic attire...cute!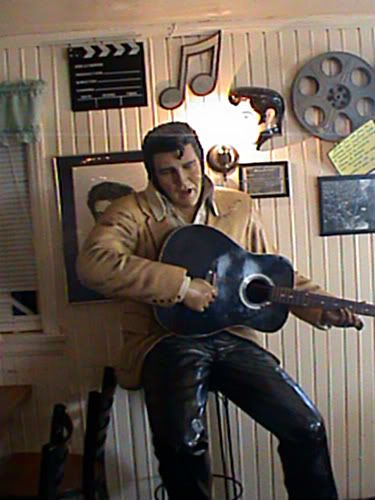 The "King" is alive and well at Peggy Sue's
A back dining area...see Marilyn?
One of the Blues Brothers....which one?
Elvis and who?
Amelia checking out the jukebox
Amelia was amazed at the huge MP3 player, otherwise known as a jukebox. Things sure have changed...and stayed the same too. Now is your turn to turn back time a little...The diner walls had lots of pictures of former stars (that Peggy knew), and visitors to the diner...How many can you name?...
Clue...Magnum PI
Peggy and Who?....I don't have a clue
Clue...Mickey Mouse Club
Everyone knows these beauties, right?
Taking pics of pics doesn't make for great pics...say that 3 times fast...so I moved on to the gift shop. The pics still aren't great cause' until I get a camera, I'm stuck using my video camera on still pics...sorry. (My phone takes better pics, but it was dead)
Coke and Betty Boop
More Elvis...even Monopoly
"I Love Lucy"
"Wizard of Oz"
Outside of the diner is just as much fun as the inside, well almost...
Dinosaur's to fascinate
Duck pond....and ducks :)
"King Kong"
Great for an outdoor picnic
We had a blast...from the past, and then we had to get back on the highway. This would be the highway in California....don't you picture palm trees, sunshine, and beaches? This was our view...
Beautiful mountains
Need water?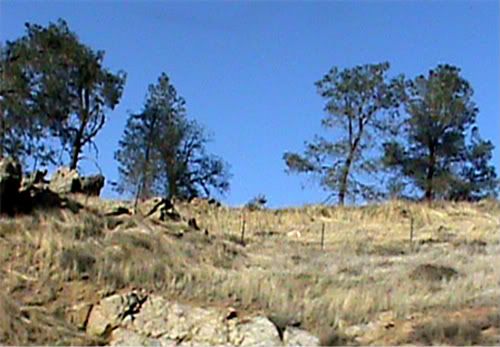 I see trees
Finally some green
Well, that was our short trip so......Thank you...Thank you very much (Too much Elvis)