Hi ya'll and welcome! After checking out my last several posts I realized I have been talking more and doing less...oh well! Sometimes you have so many ideas flooding through your head that you just can't decide what to start next...or is that just me? I guess I have been taking a little break. Not by choice, but a break none the less.
So I decided I would share an older project that I did
before I even knew blogs existed.
Our home church in Alabama, River of Life, needed an updated nursery, and since I love to paint in a BIG way, (another crafty thing I have done forever), I offered to give the nursery an "Out in the Country" feel. Since I didn't know I would blog this, I don't have any before pics, but the room started with plain blue walls. I started with the green...like this...
The start of some hills
I kept going with the green....all around the room...
Filling in the hills
Every field needs a tree, right?....Even though I do use stencils and a projector on some parts of the mural, this tree was done free hand...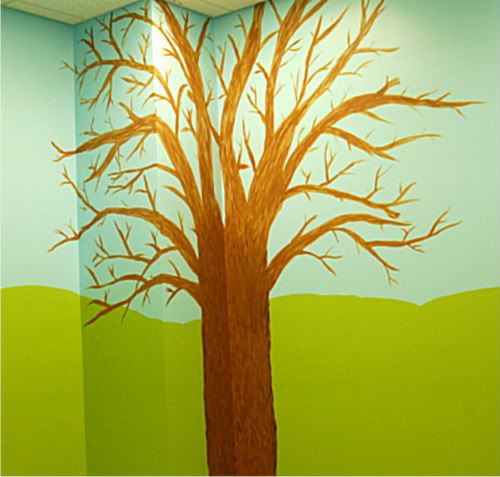 A tree is born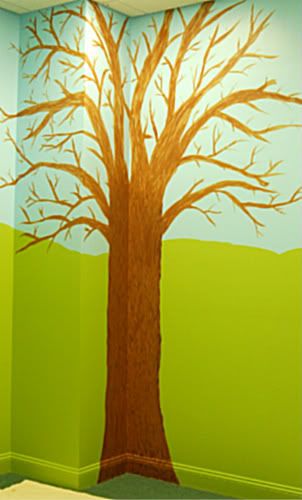 Needs work
While I had the brown paint out, I free handed a fence...that went all the way around the room. Next I added leaves to my tree...more green paint...and depth to my hills...
More fence...more hills...more leaves
If I remember correctly...which is doubtful, I added the pond next...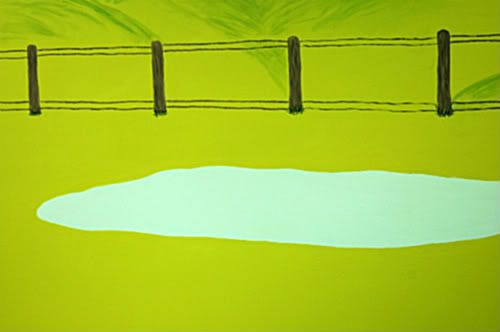 This pond is the third try...frustrating!
I added a cow...and then another cow...For this step I used a projector and a picture of a cow. This is kinda like coloring a picture out of a coloring book, but bigger. Sorry I didn't take a pic of this step. The great thing about using a projector...anyone can be a muralist...yes, I mean you!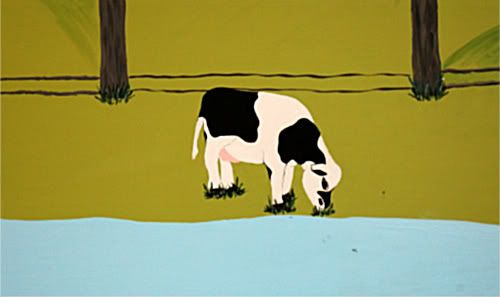 Cow #1 with the beginnings of the grass
Cow #2 with grass sprouts...more grass later
I wanted to add some flowers to the field so I used a stencil and then filled in to make them look a little more "real".
Stencil before filling...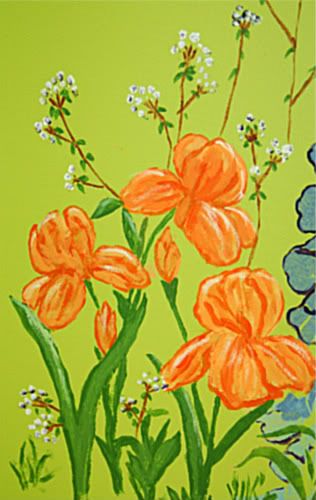 Filled and shaded
I don't really remember the exact order of things, but I added a thicker fence, grass all over including the baseboard, and a bunny in a meadow...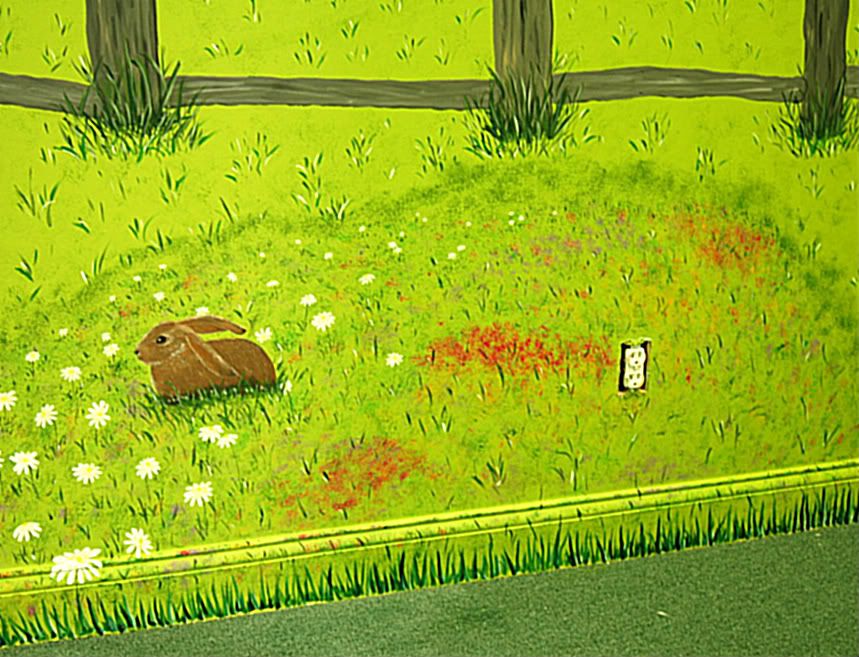 Bunny in a meadow, more grass...more grass, and a thicker fence
Still needs an outlet cover
Of course, as a DIYer I just couldn't leave it alone, so I added a frog in the pond, dragonfly, butterfly and yes...more grass...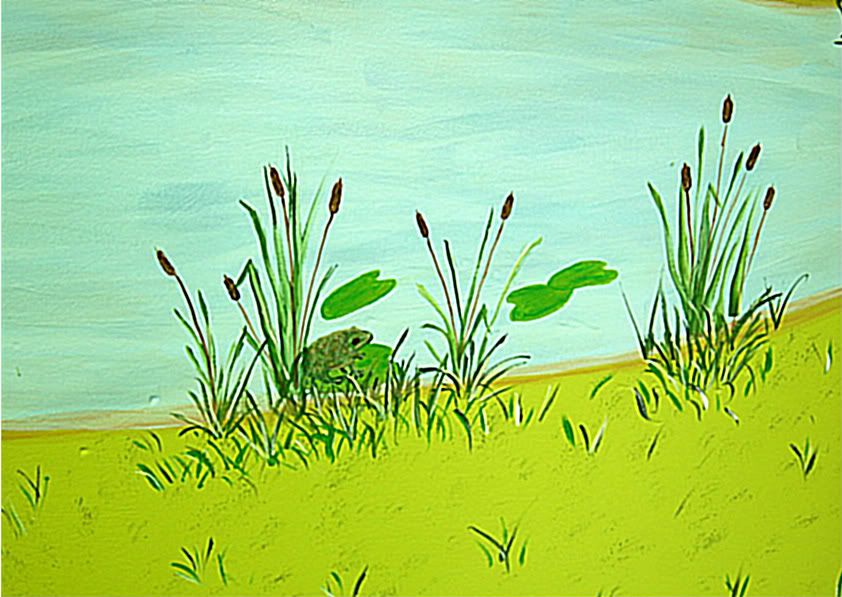 Don't ya just love frogs?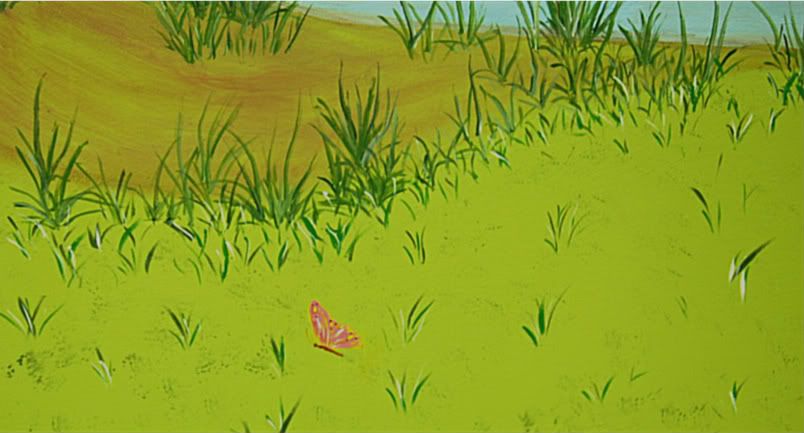 One of the butterflies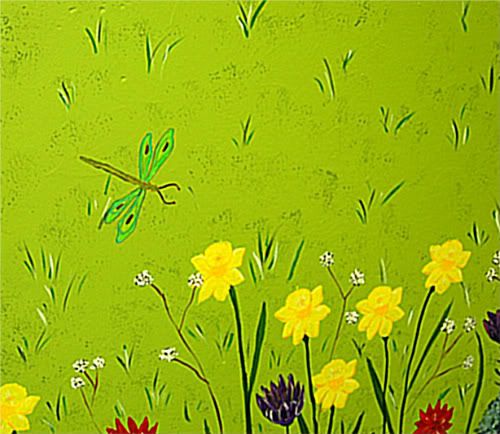 Dragonfly and more flowers
Unfortunately, I am not great at painting or drawing people...but to add a little "people" life, I decided on a farmhouse and barn...right down to the American flag...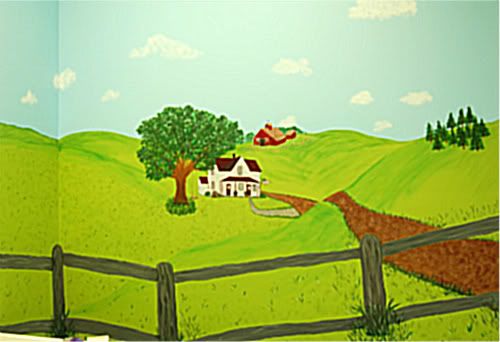 Farmhouse, barn....
Closeup of my dream house
And now for the whole thing...Starting at the left of the door and going around the room you can get an idea of the final results...I hope....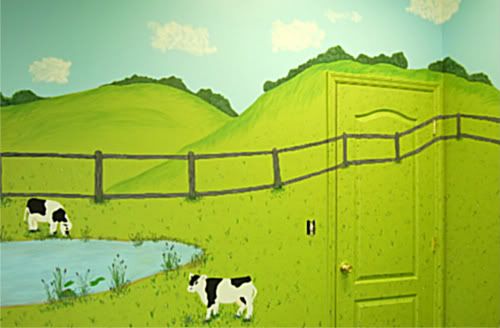 Left of door into nursery....Wall #1 pond and cows

Right of door...Wall #2 hills (sink, not painted:)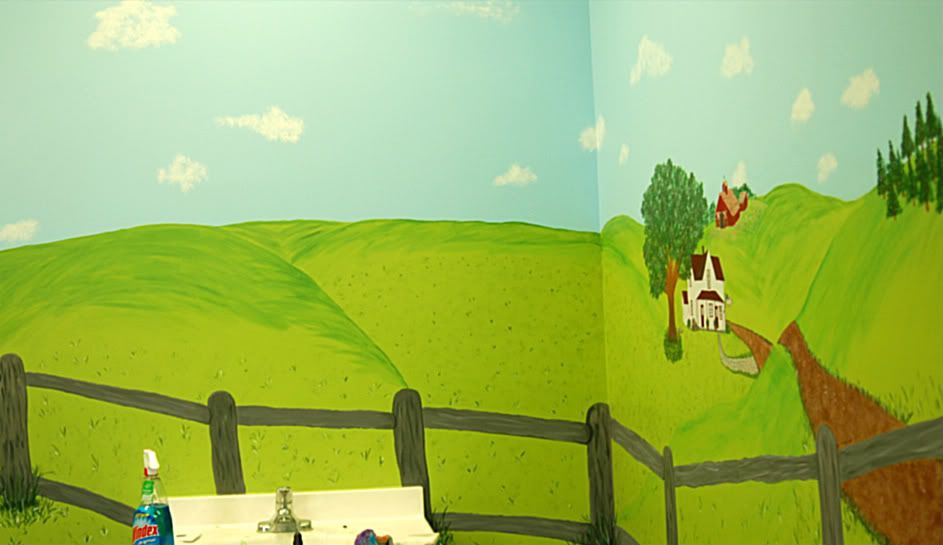 Corner from wall #2 to wall 3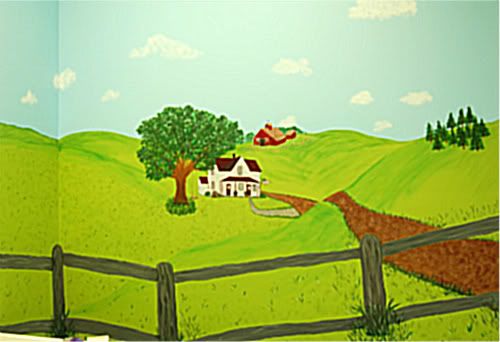 Farmhouse...wall #3
Entry gate...wall #3
Other side of gate
Wall #3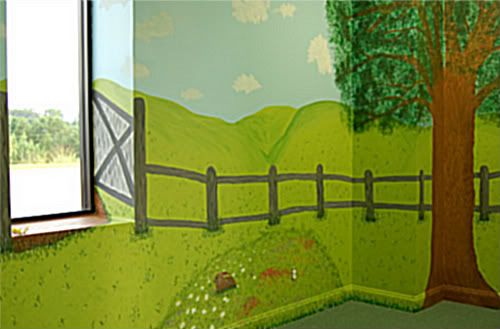 Bunny... Wall #3...Corner to Wall #4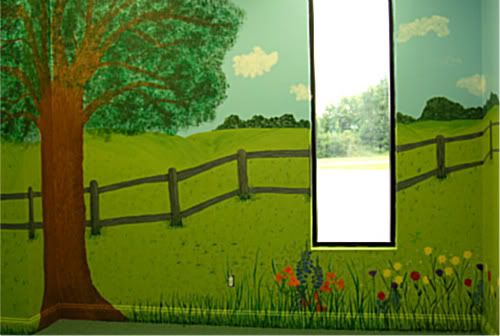 Tree, flowers...Wall #4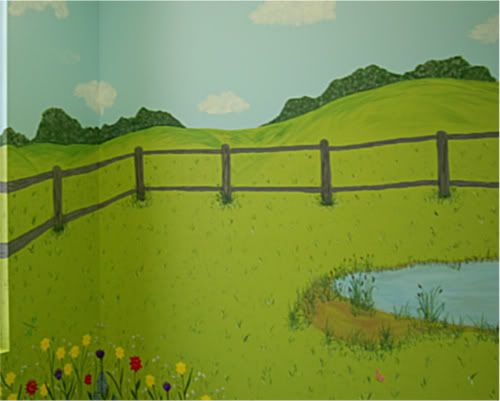 Corner wall #4 back to Wall #1 pond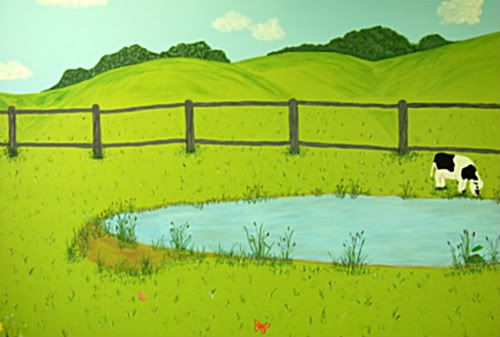 And back to wall #1 pond...
Sorry some of the pics are not so great, but like I said I just took these for me....and now you. All the kids seemed to really like the new nursery, and I loved doing it. The whole project took about a month, working 2-3 days a week...all day...well worth it!
We moved right after this, so I didn't get to enjoy it long, but maybe I'll paint another room at the church when I get home.
Linking up to these fabulous parties: