No, this is not a post about weight loss, although it could apply to my need to get in better shape. This is about a great afternoon out with my honey and my baby girl (she is actually 11). We had a fun, and educational day at the Jelly Belly factory...and here it is...
Unfortunately, someone had to hold the camera...and we were it! Here we are out front with the huge Jelly Belly balloon..
| | |
| --- | --- |
| Cliff and Amelia | Me and Amelia |
When it was Amelia's turn to take a pic, we had her count to three...and then totally "grossed her out"!!!.....
Lay one on me Baby!
...Apparently, parents aren't supposed to kiss...too bad!
Once inside we were in Jelly Belly heaven...
| | |
| --- | --- |
| Even on the ceiling... | Jelly Belly's everywhere! |
| | |
| --- | --- |
| Yummy Samples | NOT so yummy samples |
Jelly Belly offers free tours everyday, all day....with free samples...Yum!
Our tour started with the art gallery, which was amazing. Artists from all over the world have contributed their talents to make incredible art made from Jelly Belly beans....
| | |
| --- | --- |
| Jelly beans...really? | |
| | |
| --- | --- |
| How much time to do this? | |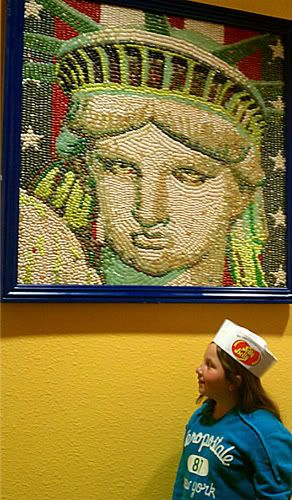 So awesome....look at it close up...next pic
How did a jelly bean get so famous? This is just one of the tidbits we learned on our tour. Apparently, Governor Ronald Reagan had to have Jelly Belly jelly beans at all government meetings. He wrote the company to express his thanks. When Ronald Reagan became president, Jelly Belly made a new flavor, blueberry, so they could present President Reagan with a red, white, and blue jar of Jelly Belly beans.
The Jelly Belly was an overnight sensation....who knew!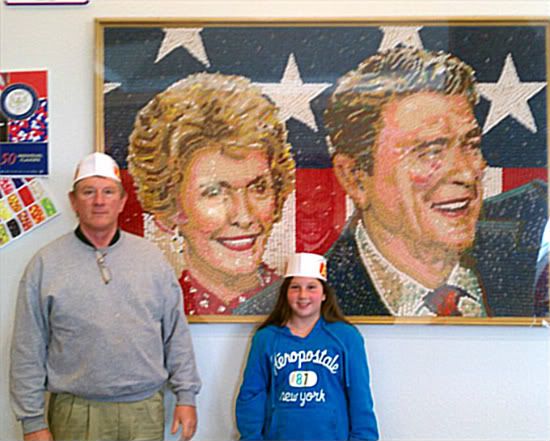 2 Famous people....and the Reagans
After this we had to put our cameras away...no pics in the work areas...so sad!
Facts I learned at Jelly Belly:
** A Jelly Belly bean has 4 calories...not too bad if you can only eat one
** The #1 selling Jelly Belly is....Very Cherry....#2, Buttered popcorn...#3, Licorice
** The factory makes 20 million Jelly Belly beans a day...or 80,000,000 calories
** 10,000 lbs of cornstarch is used each day....that could cause a playdoh shortage
After the tour we hit the gift store, and the fudge store...we found lots of goodies like...
| | |
| --- | --- |
| Jelly Belly bean bag friends | Great Pillows |
| | |
| --- | --- |
| Shirts | Watches |
| | |
| --- | --- |
| Lunch boxes... | Water bottles |
| | |
| --- | --- |
| Keychains | Bags for whatever |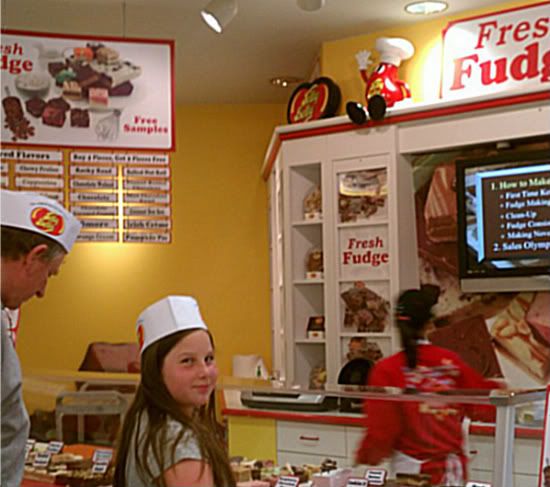 The Fudge shop....who can resist fudge?
We had a great time and even got a free sample box of Jelly Belly beans on our way out...I only had one complaint, and it is not a complaint unique to Jelly Belly.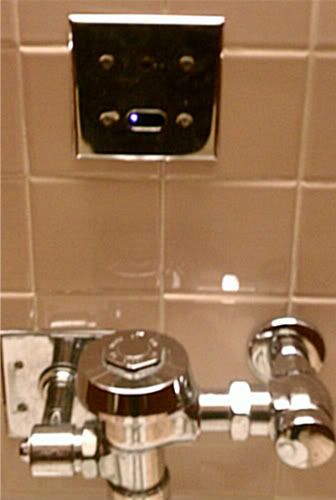 We had to use the restroom on our way out and although it was very clean...it had those annoying automatic toilets. I know this is a pet peeve of mine and you probably couldn't care less, but I despise these "green" potties. With every movement, the darn thing flushes...OR....it won't flush at all and you have to search for the tiny magic button. Does anyone else have anger issues associated with automatic potties?
Not exactly the way I planned on ending this post, butt but it bothered me enough to take a pic, so it can't be just me...right?
So this post doesn't seem too disjointed, I offer you the idea that the potty and jelly beans have been put together before... "pooping" jelly bean dispenser...
NOT my idea!