Ever had a complete DIY flop? Usually if I have a huge glitch then I just go in another direction, or redo it...But this time, I did not even know I was about to have a major flop. So here is what happened...I found this great vintage footstool (future pouf), in the FREE pile at a garage sale. As usual I could not just leave it behind, so in the car it went...here is the original...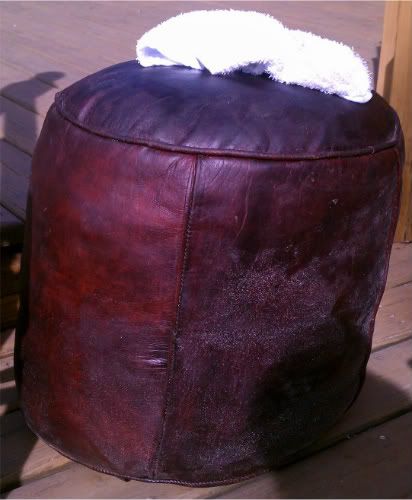 Dirty, but has potential!
I have seen a few people paint vinyl and leather, so I figured Why Not?
One person somewhere on the blogosphere (wish I could find it), painted a leather chair with chalk paint and it looked great. That was all the encouragement I needed. I cleaned the leather with alcohol and got busy...
| | |
| --- | --- |
| Before Cleaning | After Cleaning...looking better |
| | |
| --- | --- |
| 2/3 paint with 1/3 sheetrock mud | Start the painting... |
| | |
| --- | --- |
| First coat | 2nd Coat |
I was really liking the look after the 2nd coat of chalk paint...who doesn't love turquoise, right? It was looking a little plain, so I decided to do a colorful pattern on the top. I love the little samples at Home Depot...only $2.49 for any color you want! Not bad if you only need a little paint, and you want a specific color.
Here is what I used...
Yellow, Orange and Green
Next step....paint some pretty circles...like so...
| | |
| --- | --- |
| Yellow | Green and Orange |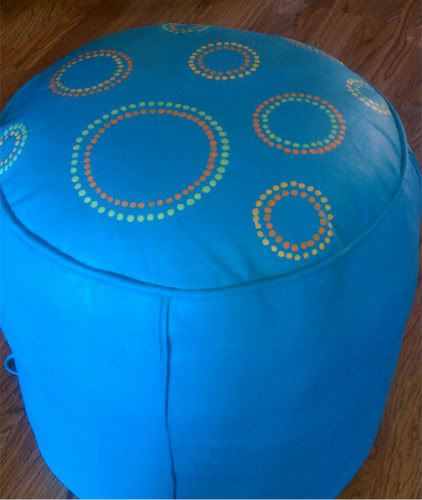 Here it is....I loved it!

The only thing left to do...wax and enjoy....or so I thought!
While preparing to wax I noticed a tiny spot where the paint had come off...just a little tiny spot...OH SAY IT ISN'T SO!
It was so....the paint did not adhere to the leather. Aggghhhh! I couldn't have discovered this BEFORE I painstakingly painted tons of little polka dot circles? Of course not! I rationalized that maybe it was just a small area...or maybe it didn't have time to cure, or maybe.....it was just a flop! So, what did I do?.....
Are you one of those people that love to peel? If you are, then you know it...if you are not then you probably have no idea what I'm talking about. Well, I am a PWLTP (person who loves to peel), and so I made the best out of my disaster....I peeled ...with only a few tears....
| | |
| --- | --- |
| No fair...sniff | sniff, sniff |
I peeled til' I felt a little better and now I am trying to decide what to do with my failed pouf. I did learn that you should always prime, or use a leather paint. I guess I will also have to admit that Annie Sloan chalk paint must have something that my homemade paint doesn't have....I'm just all poufed out!
Sooo Sad!
Have you had a failed project?
Did you fail early on or at the end?
What did you do with it?
Share all your failures...and successes. I would love to hear from you.