Hi Ya'll! To keep us all in the spirit for Valentine's Day I am going to share our new holiday tradition...A Valentine's tree. We are big Christmas decorators, so we have 5 trees (should I really admit that!), and one of the small trees just happens to be pink...perfect for Valentine's Day.
After climbing in the attic and retrieving the pink tree (the very last box, in the back, past the spider webs...ugh), I headed to my favorite craft store....the Dollar Tree!
Here is what I got...
Valentine's garland and heart boxes...so cute
Foam heats and "sweetheart" boxes
I brought my goodies home, put the tree together, fluffed the branches and got out some of my crystals...these are leftovers from lamp and chandelier makeovers like my
Revamp the Lamps
...I love lamps!
Gotta love some bling!

Teardrops make me happy
I put it all together and here is what I got....A Valentine's tree!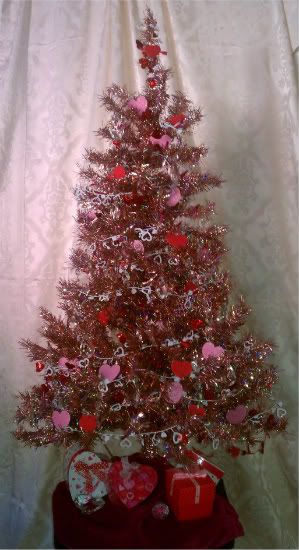 Love is in the air
We have lights!
| | |
| --- | --- |
| Love tinsel... | ...and lights |
Night view
I love it so much...maybe next year I'll drag down the 8 foot white tree...probably not!
This only took about an hour, so get inspired and put up your own tree....and have a Happy Valentine's Day.
If you want to see more of my ideas check out some of my follower faves like...
I have enjoyed sharing with all of you today!
Linking up to these awesome parties....